Binda's Revenge
The 1930 World Championship Road Race was held in Liege, Belgium. Huge Belgian crowds lined the streets around the race course to see the powerful Belgian team and two time defending World Champion (1928, 1929) George Ronsse take on Italy's Campionissimo Alfredo Binda (World Champion in 1927).
The previous year's World Championship saw Ronsse out sprint Binda and Nicolas Frantz (Lux) for the victory. Binda came to Belgium to seek revenge for 1929.
Binda got his revenge and beat Georges Ronsse to win his second World Road Race Championship.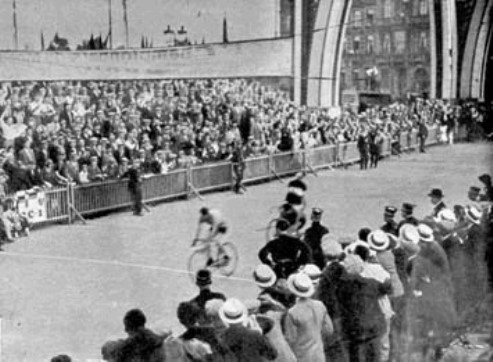 SPECAIL NOTE: Earlier in the year Alfredo Binda was so powerful in 1930 the organizers of the Giro d'Italia feared complacency for thier race's image and paid him not to compete.
WCRR August 30, 1930
210 Km [ Liege, Belgium ]
1. Alfredo BINDA (Ita) 7h30'45"
2. Learco Guerro (Ita)
3. Georges Ronsse (Bel)
Starters: 26
Finishers: 17
Average Speed: 27.953 km/h
Return to the Timeline ToC
Return to the Race Snippets ToC