Sean Kelly's Irish Spring
SPECIAL NOTE: It was an Irish Spring of 1984 for Sean Kelly. During a nine week period Kelly had 12 major victories, but Paris-Roubaix was the missing link.
The 1984 edition of Paris-Roubaix exploded in the Arenberg Forest (cobbled section #15). Known as a launching pad for successful breakaways, Alain Bondue and Gregor Braun attacked entering the brutal cobbles.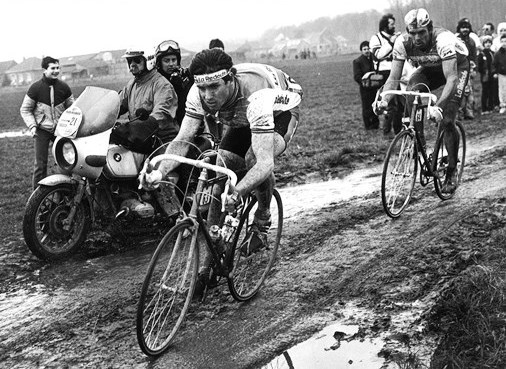 The duo set such a hard pace no one followed. Kelly's team manager Jean de Gribaldy told him to be patient. By the exit of the Arenberg the teammates had a 1'20" lead.
When a tiring Braun punctured on the cobbles at Mons-en-Pavele (cobbled section #8) the lead fell to one minute. Sensing an opportunity Sean Kelly attacked his chase group. Only Belgian Rudy Rogiers managed to bridge the gap up to Kelly's wheel. Kelly and Rogiers caught the two leaders in Wannehain with 20 kms to go. Braun couldn't hold the pace and lost contact. Bondue crashed heavily on the final cobbled section at Hem.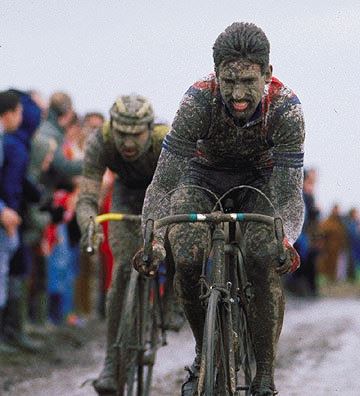 Rogiers led Kelly into the velodrome with Bondue closing quickly. The sprint was a mere formality with Sean Kelly easily coming around Rogiers for the victory. After his crash Alain Bondue's brilliant pursuit fall 36 seconds short of catching Kelly.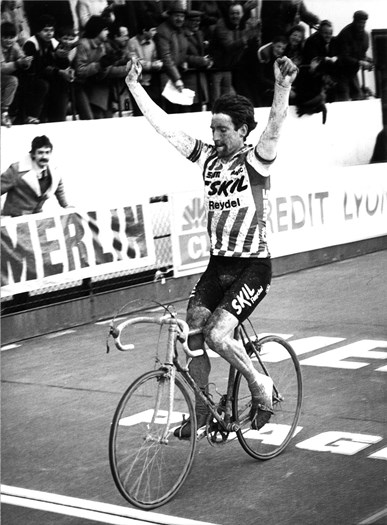 With the Paris-Roubaix victory Irishman Sean "King" Kelly continued his stellar spring of 1984.
(See CR's "Irish Spring of 1984")
P-R April 8, 1984
265.5 Km, Compiegne to Roubaix (Velodrome)
1. Sean KELLY (Irl) 7h31'35"
2. Rudy Rogiers (Bel)
3. Alain Bondue (Fra) +36"
Average Speed: 36.074 km/h
Return to the Timeline ToC
Return to the Race Snippets ToC