Madiot's "Muddy Marvelous" Victory
The 83rd edition of Paris-Roubaix would prove to be an epic battle. A former French cyclocross champion Marc Madiot used all his skills to emerge as the winner of a vintage "Hell of the North".
172 riders set off for a muddy ride on a chilly and damp morning in Compiegne The ride would be treacherous through the brutal cobbles of Northern France. A week of rain had put a film of mud on the already brutal cobbled sections of the race.
When the riders entered the Arenberg Forest crashes began to eliminate contenders. A small group containing the remainder of the favorites entered the "5 star" (most difficult) cobbled section Carrefour de l'Arbre 14 kms from Roubaix, when Madiot launched the winning attack.
The chase began immediately when Lotto's Jef Lieckens crashed on the front of the pack. Next a motorbike fell in front of Sean Kelly, Eddy Planckaert, and Greg LeMond. The accident gave Madiot 300 meters and he never looked back.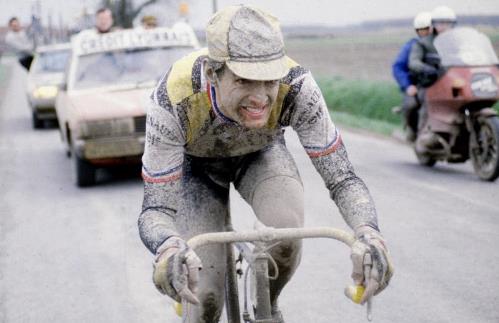 Marc Madiot crossed the finish line alone for the 1'57" win. The headline in L'Equipe read: "Madiot Entre au Paradis" (Madiot Enters Paradise). Marc Madiot battled the peloton and the elements through the cobbles of Northern France to emerge with the "muddy marvelous" victory.
P-R April 14, 1985
268 Km, Compiegne to Roubaix (Velodrome)
1. Marc MADIOT (Fra) 7h21'10"
2. Bruno Wojtinek (Fra) +1'57"
3. Sean Kelly (Ire) +2'09"
Starters: 172
Finishers: 35
Average Speed: 36.109 km/h
Return to the Timeline ToC
Return to the Race Snippets ToC