Hinault Takes the "Queen"
SPECIAL NOTE: For years Bernard Hinault complained that Paris-Roubaix was "not a bicycle race but a cyclocross" and stated he would never return. But this WAS the "Queen of the Classics" and Hinault did return.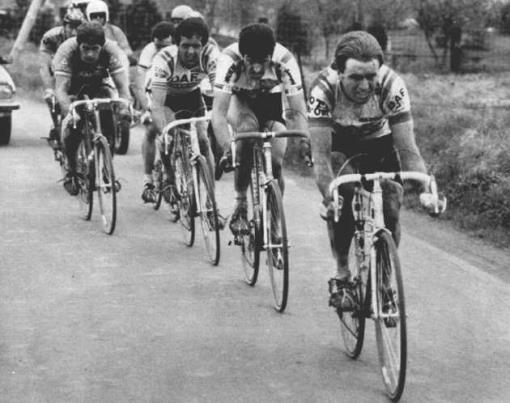 Wearing his World Championship jersey, Hinault led a breakaway of six riders into the finish in Roubaix. Roger De Vlaemnck, Hennie Kuiper, Francesco Moser, Marc Demayer, and Guido Van Calster worked hard to hold the Badger's wheel.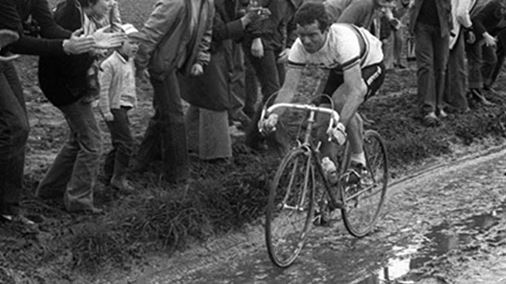 Kuiper drove the pace into the velodrome with 1.5 laps to go. Hinault took the bell for the final lap and lead out the long sprint with 400 meters to go. Pushing a huge 53x13 gear Hinault held off a late charge by Roger De Vlaeminck to take the prestigious Paris-Roubaix victory.
SPECIAL NOTE: Hinault's victory was the first for a Frenchman since Louison Bobet 25 years earlier.

P-R April 12, 1981
263 Km, Compiegne to Roubaix (Velodrome)
1. Bernard HINAULT (Fra) 6h26'07"
2. Roger De Vlaeminck (Bel
3. Francesco Moser (Ita)
Starters: 174
Finishers: 57
Average Speed: 40.868 km/h
Return to the Timeline ToC
Return to the Race Snippets ToC