The Gypsy Sets the Record
The long time start of Paris-Roubaix in Chantilly (1966 to 1976) was shifted to the current start in Compiegne. The road rivalry between Freddy Maertens and Roger De Vlaeminck reached new heights during the 1977 Tour of Flanders. The next showdown came on the cobbled roads of Paris-Roubaix.
A large crash on the first cobbles at Neuvilly split the peloton into small groups. Slow attrition reduced the size of the lead group with the numbers falling as the favorites punctured or crashed.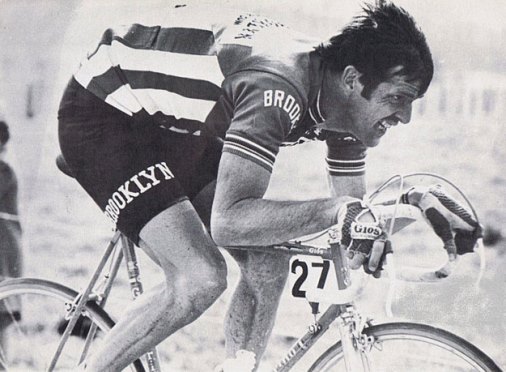 Through the final cobbled sections Roger De Vlaeminck attacked and rode solo into the velodrome. He cruised around the track to the roar of the crowd and crossed the finish line 1'30" ahead.
The victory was De Vlaeminck's fourth record setting victory at Paris-Roubaix. Archrival Freddy Maertens finished in third place 1'39" behind the Gypsy.
SPECIAL NOTE: Grand Champion Eddy Merckx finished 11th in his final race of Paris-Roubaix.
P-R April 17, 1977
250.5 Km, Compiegne to Roubaix (Velodrome)
1. Roger DE VLAEMINCK (Bel) 6h11'26"
2. Willy Teirlinck (Bel) +1'30"
3. Freddy Maertens (Bel) +1'39"
Starters: 149
Finishers: 43
Average Speed: 40.464 km/h
Return to the Timeline ToC
Return to the Race Snippets ToC