Moser's First… at Last
The 141 strong peloton left the start at Compiegne aggressively. The lead group was only 40 riders in the first cobbled section at Neuvilly. A steady rain caused havoc, a large crash slowed several favorites.
Italian Francesco Moser attacked from the dwindling pack and broke away. Freddy Maertens with Jan Raas and Moser's teammate Roger De Vlaeminck formed an elite chase group but Moser held a minute lead with 10 kms to go.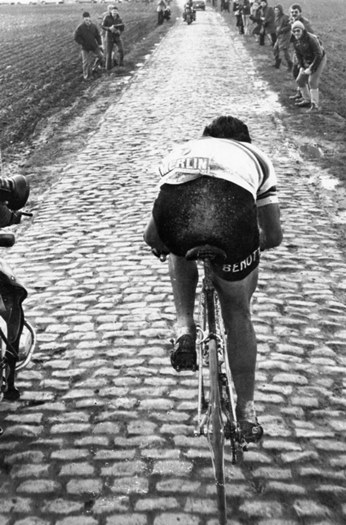 Moser continued to build the lead and entered the velodrome with a 1'40" advantage. With his World Championship Jersey covered in mud Francesco Moser claimed his first victory in the "Hell of the North".
SPECIAL NOTE: Moser's victory was the first for Italy since Italian Felice Gimondi in 1966.
P-R April 16, 1978
263 Km, Compiegne to Roubaix (Velodrome)
1. Francesco MOSER (Ita) 7h12'24"
2. Roger De Vlaeminck (Bel) +1'40"
3. Jan Raas (Ned)
Starters: 141
Finishers: 40
Average Speed: 36.494 km/h
Return to the Timeline ToC
Return to the Race Snippets ToC