Demeyer's Determination
A union protest held up the start of the 1976 Paris-Roubaix for an hour. The race director's car received four flat tires during the protest. Negotiations by Jacques Goddet allowed the race to start.
All the aggressive early breakaways were caught by the first cobbled section at Neuvilly. The decisive attack of the race came in the closing cobbled sections when Roger De Vlaeminck tried to drop the remaining peloton. Only Marc De Meyer, Francesco Moser, Hennie Kuiper, and Walter Godefroot could hold the Gypsy's wheel.
De Vlaeminck was in full control and entered the velodrome first. Confidently De Vlaeminck led out the sprint. Down the back stretch Francesco Moser began to come past the De Vlaeminck. A determined Marc De Meyer carried his speed through the final bend and surge past both of the two superstars for the victory.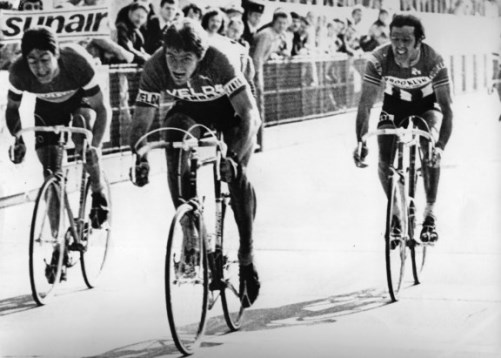 SPECIAL NOTE: Eddy Merckx did not have a good day. Because of crashes, punctures and mechanicals he was forced to change his bicycle 10 times!
P-R April 11, 1976
270.5 Km, Chantilly to Roubaix (Velodrome)
1. Marc DE MEYER (Bel) 6h37'41"
2. Francesco Moser (Ita)
3. Roger De Vlaeminck (Bel)
Starters: 154
Finishers: 38
Average Speed: 40.811 km/h
Return to the Timeline ToC
Return to the Race Snippets ToC