By Barry Boyce, CyclingRevealed Historian
"Little Chimney Sweep" Times 2
An innovation for Paris-Roubaix: organizers instituted motorized pacers to assist the riders along the difficult parcours of the course. Defending champion Maurice "the Little Chimney Sweep" Garin (Fra) returned to prove his victory in 1897 was no accident.
Garin rode with all the early attacks before taking the lead for good through Arres. When Garin entered Roubaix he was greeted with an enormous ovation. Maurice Garin, covered with mud, crossed the finish line more than 29 minutes ahead of second place Auguste Stephane (Fra).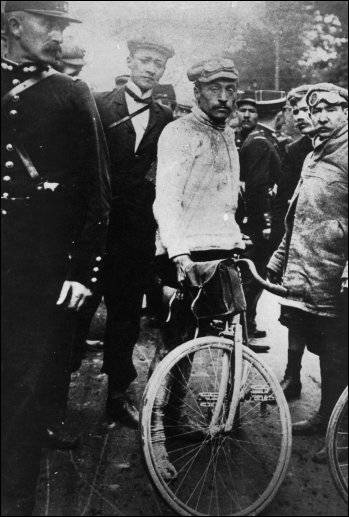 SPECIAL NOTE: The Paris-Roubaix organizers ran a motorcycle race on the same day and on the course as the bicycle race. The winner of the motorcycle race finished in 7 hours and 29 minutes. Maurice Garin, the bicycle winner, finished the brutal course in 8 hours 13 minutes, only 44 minutes slower than the motorized two-wheeler.
P-R April 10, 1898
268 Km, Chatou (west of Paris) to Roubaix (Rue Verte, Criox)
1. Maurice GARIN (Fra) 8h13'16"
2. Auguste Stephane (Fra) +29'32"
3. Edouard Wattelier (Fra) +33'52"
Starters: 34
Finishers: 18
Average Speed: 32.599 km/h
Return to the Timeline ToC
Return to the Race Snippets ToC