By Barry Boyce, CyclingRevealed Historian
Garin Holds on for Victory
An injury kept defending champion Josef Fischer from starting the 1897 Paris-Roubaix. Shortly after the starter's flag dropped Dutchman Mathieu Cordang attacked and opened a substantial lead. A more patient Frenchman Maurice Garin was waited for the hard cobbled sections to the north. As Cordang cruised steadily toward victory, Garin slowly closed the gap through the tough cobblestone sections.
Garin caught Cordang with the velodrome in sight. 10,000 fans cheered wildly as the two entered the track for the 6-lap sprint to the finish. Garin led onto the track when Cordang slipped on the wet velodrome cement and immediately lost 100 meters. He recovered quickly and began a frantic pursuit of Garin. The bell rang for the final lap with Cordang closing quickly to 30 meters behind. Tired and covered with mud Garin summoned the energy for the final push and crossed the finish line only two meters ahead of Cordang.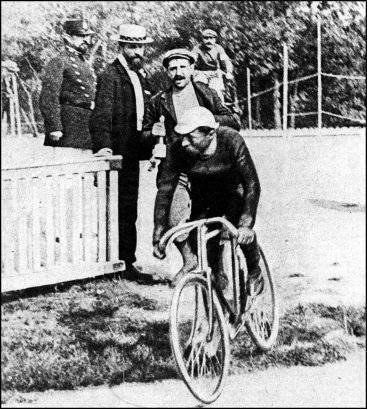 P-R April 18, 1897
280 Km, Porte Maillot, Paris to Roubaix (Rue Verte, Criox)
1. Maurice GARIN (Fra) 9h57'21"
2. Mathieu Cordang (Ned)
3. Michel Frederick (Sui) +30'00"
Starters: 32
Finishers: 15
Average Speed: 28.124 km/h
Return to the Timeline ToC
Return to the Race Snippets ToC