Marc Gomez

SPECIAL NOTE: Race promoter Vincenzo Torriani installed the climb of the Cipressa in 1982. Much the same as the 1960 addition of the climb of the Poggio the Cipressa was intended to make the race harder for the sprinters.
The 1982 Milan–San Remo was raced under gray skies with cold temperatures and rainy conditions. The M-SR was won by relatively unknown French cyclist named Marc Gomez.

From the start of the race in Milan a group of about 20 riders instigated by Italian Claudio Bortolotto attacked and rode steadily away from the peloton. By the time the race reached the bottom of the Cipressa only Gomez, Bortolotto and Alain Bondue were left from the early breakaway. Late in the race the 3 leaders held an advantage of seven minutes.

Gomez attacked the breakaway on the Cipressa and went over the summit with a handful of seconds on the other two. Bondue managed to catch Gomez while a tired Bortolotto faded and was eventually caught by a chasing group containing Francesco Moser and Moreno Argentin.
On the final climb up the Poggio Bondue let superior climber Gomez set the pace. When the race hit the winding descent of the Poggio, Bondue slid out on sharp corner and allowed Gomez to slip away. Inspired by the small time gap the Frenchman rode alone down the 'Via Roma' in San Remo to gain the prestigious victory.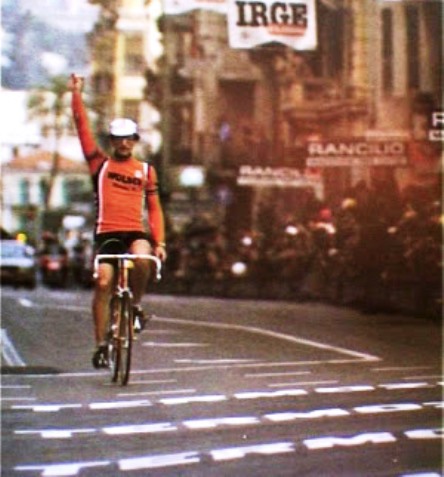 M-SR March 20, 1982
294 Km
1. Marc GOMEZ (Fra) 7h04'12"
2. Alain Bondue (Fra) +10"
3. Moreno Argentin (Ita) +2'01"
Starters: 260
Average Speed: 41.584 km/h
Return to the Timeline ToC
Return to the Race Snippets ToC