Italian World Champion Wins a Monument
The 1983 Milan-San Remo was greeted with a beautiful spring day. Italian Giuseppe "Beppe" Saronni was the crowd favorite as the first major classic of the racing season left Milan and headed onto the plains of Lombardy.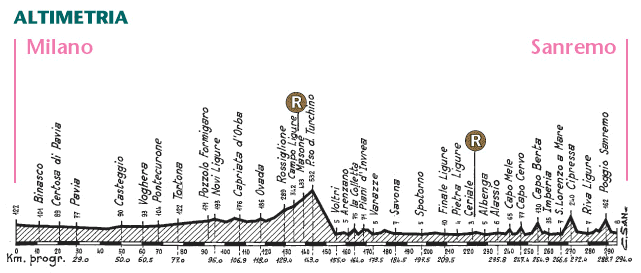 *Race profile courtesy of Internet site: www.econ-outlook.com.au/tom/cycling/palmares.html
After the sprinters gain the early premes the first difficult section came on the Turchino Pass. The field began to shrink over the summit, but the final breakaway didn't form until the tough Capo Melo and Capo Berta. Fifteen riders formed with Sean Kelly, Jan Raas, Eric Vanderaerden, Francesco Moser and Beppe Saronni leading the way.
When the group started the Poggio climb only 6 kms from the finish Kelly's teammate Rene Bittinger was the first to attack. Saronni reacted quickly and broke away from the group. He caught Bittinger over the top of the climb and rode right past a faltering Frenchman.
Saronni plunged down the Poggio and hit the Via Roma to the roar of the Italian crowd. The reigning World Champion crossed the finish line 44 seconds ahead of Guido Bontempi.
M-SR March 19, 1983
294 Km
1. Giuseppe SARONNI (Ita) 7h07'59"
2. Guido Bontempi (Ita) +44"
Starters: 227
Finishers: 122
Average Speed: 41.216 km/h
Return to the Timeline ToC
Return to the Race Snippets ToC