By Barry Boyce CyclingRevealed Historian
Fons de Wolf
The 1982 Milan–San Remo was blessed with good weather for the race.

Early breakaways were allowed to collect the premes along the "Plains of Lombardia" leading to a Passo di Turchino. Along the Mediterranean coast the racing began to speed up.

A large peloton of 59 riders hit the base of the Poggio, 6 kms from the finish, together. Italian champion Giuseppe Saronni pushed a hard pace at the front of the peloton. Aggressively Belgian Fons de Wolf attacked over the summit of the climb. Descending like a mad man he opened a gap.
De Wolf hit the "Via Roma" with an 11 second lead and crossed the finish line for the victory. Roger de Vlaeminck won the very close sprint for second place.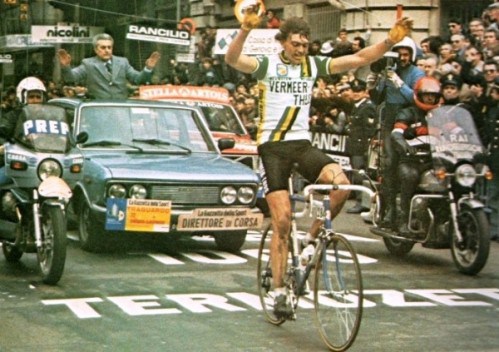 M-SR March 21, 1981
288 Km
1. Fons DE WOLF (Bel) 6h41'06"
2. Roger De Vlaeminck (Bel) +11"
Starters: 271
Average Speed: 43.081 km/h
Return to the Timeline ToC
Return to the Race Snippets ToC