Eddy Merckx Wins 6th M-SR!!!
The 1975 Milan-San Remo was run under sunshine along the Mediterranean coast.
The race was decided on a very aggressive climb of the famous Poggio. Four riders escaped on the 3 km run-in to the finish. World Champion Eddy Merckx chased hard off the descent of the Poggio to re-connect with the leaders. The lead group was now six.
Belgian Eddy Merckx lead the group onto the "Via Roma" with Italian Francesco Moser glued to his wheel. A huge sprint by Merckx "put paid" on the race. Eddy "the Cannibal" Merckx crossed the finish line a half-bike length ahead of Moser to gain his 6th Milan-San Remo victory.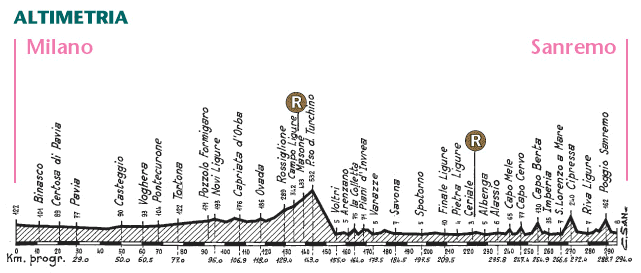 *Race profile courtesy of Internet site: www.econ-outlook.com.au/tom/cycling/palmares.html


M-SR March 19, 1975
288 Km
1. Eddy MERCKX (Bel) 7h40'26"
Starters: 184
Average Speed: 37.530 km/h
Return to the Timeline ToC
Return to the Race Snippets ToC