Felice Gimondi in a World of His Own

SPECIAL NOTE: Controversy surfaced when the "Politics of the Peloton" saw several teams refuse to race because two Flandria sponsored teams (Belgian team Flandria-Carpenter and French team Merlin Plage-Flandria) were enter in the 1974 M-SR.
World Champion Felice Gimondi (Ita) came to the 1974 Milan-San Remo with great fitness. Approaching the final climb, the famous Poggio Gimondi attacked with Molteni's Joseph Huysmans (Bel). Steadily the Italian rode away from the group and flew up the Poggio.
Felice Gimondi would not be caught and cruised down the "Via Roma" nearly two minutes in front of peloton. The 1974 M-SR victory was his!!!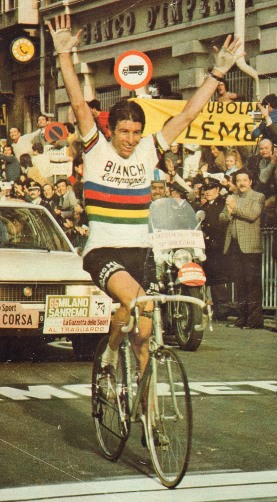 M-SR March 18, 1974
288 Km
1. Felice GIMONDI (Ita) 6h46'16"
2. Eric Leman (Bel) +1'53"
3. Roger De Vlaeminck (Bel) +1'54"
Starters: 193
Average Speed: 42.533 km/h
Return to the Timeline ToC
Return to the Race Snippets ToC