A Merckx Milestone!
Friday, March 19, 1976 marked the start of the 67th edition of Milan-San Remo. Defending champion Eddy Merckx was just returning to full strength after a bout with bronchitis. The "Cannibal" was not a pre-race favorite.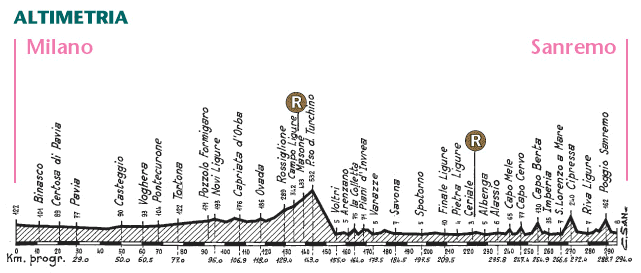 *Race profile courtesy of Internet site: www.econ-outlook.com.au/tom/cycling/palmares.html
The final selection came along the wide flat roads of the Mediterranean coast. Eddy Merckx led an elite group of 15 riders over the Capo Berta with 48 kms to go. Merckx began a series of three attacks as the group approached the final climb, the famous Poggio.
Each of Merckx's first 3 attacks were answered by the tiring breakaway. When the group hit the Poggio, the "Cannibal" attacked for a fourth time. Roger De Vlaeminck and Freddy Maertens hestitated, look at each other to start the chase. Only a young Jean-Luc Vandenbroucke had the strength to catch Merckx.
The breakaway group now shattered, Merckx and Vandenbroucke climbed the Poggio side by side. Over the top of the climb Michel Laurent and Wladimiro Panizza chased 20 seconds behind.
Into San Remo a tired Vandenbroucke took a final hard turn on the front. Merckx burst past Vandenbroucke on the "Via Roma" with 300 meters remaining and the race was over. Eddy Merckx celebrated a unique victory by winning his 7th Milan-San Remo Classic.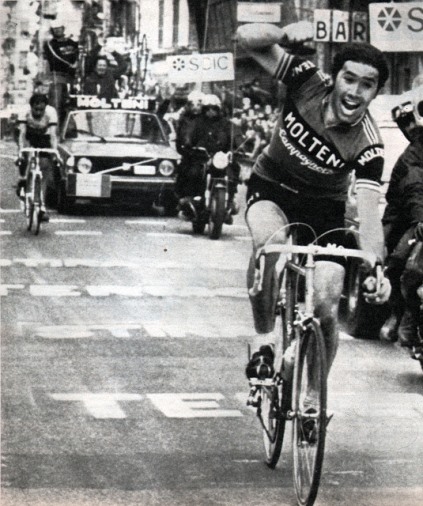 SPECIAL NOTE: Second place finisher Jean-Luc Vandenbroucke was later disqualified for doping. Italian Wladimiro Panizza was awarded second place with third place left vacant.
M-SR March 19, 1976
288 Km
1. Eddy MERCKX (Bel) 6h55'28"
2. Wladimiro Panizza (Ita) +28"
3. X *
* Jean-Luc Vandenbroucke (Bel) second, disqualified for a positive drug test
Starters: 191
Finishers: 85
Average Speed: 42.015 km/h
Return to the Timeline ToC
Return to the Race Snippets ToC