The First Dutch Winner of Milan-San Remo
The 56th edition of Milan-San Remo left the start under cold temperatures and damp conditions. Italian riders from the small teams were aggressive early as the race sped across the plains of Lombardia. Over the tough Passo Turchino sprinter Franco Bitossi broke away and built 1 minute lead. Rik Van Looy's Solo-Superia team reeled in the Italian on the descent.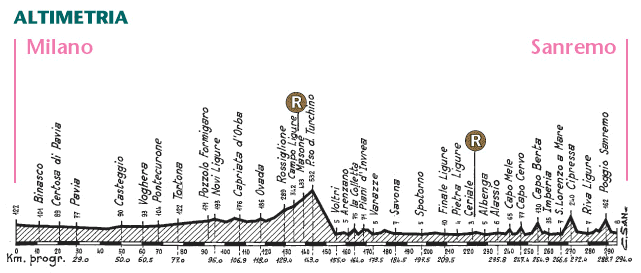 *Race profile courtesy of Internet site: www.econ-outlook.com.au/tom/cycling/palmares.html
On the long climb of the Capo Caprazoppa 201 km into the race Franco Balmamion and Raymond Poulidor drove a pace that strung-out the peloton. The single file pack struggled but did not split. Gianni Motta was next to attack but the move was quickly covered by Suisse rider Rolf Wolfshohl. An attentive peloton led by Solo-Superia furiously chased and brought Wolfshohl back to the pack.
The decisive move of the race came on the Capo Berta, 40 kms from the finish, when Franco Balmamion went clear. For 16 hard kilometers Vittorio Adorni chased and caught a solo Balmamion.
Following a crash involving pre-race favorite Rik Van Looy, Dutchman Arie den Hartog, a domestic for Jacques Anquetil in the Ford-Gitane team, made a solo attack that quickly cut 40 seconds of the lead. With 16 kms to the finish Den Hartog caught the duo in Arma di Taggia.
Den Hartog's pace up the final climb, the famous Poggio, Balmamion and Adorni began to show fatigue. Onto the Via Roma Vittorio Adorni led out the sprint, but the young Dutchman had too much speed and jumped away for the victory.
The 23 year old Arie den Hartog became the first rider from the Netherlands to win the prestigious Milan-San Remo Classic.
M-SR March 19, 1965
288 Km
1. Arie DEN HARTOG (Ned) 6h53'32"
3. Franco Balmamion (Ita)
Starters: 153
Finishers: 90
Average Speed: 41.641 km/h
Return to the Timeline ToC
Return to the Race Snippets ToC