A 20 Year Old Belgian Blows Away "La Primavera" Field
The 57th Milan-San Remo marked the arrival of a 20 year old Belgian sensation named Eddy Merckx.
Riding for the Peugeot team the young Merckx blew away all comers in the sprint to gain his first prestigious Milan-San Remo victory.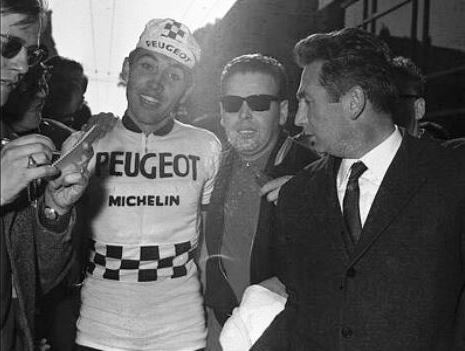 SPECIAL NOTE: The M-SR victory In 1966 marked the first of 19 wins in cycling's '5 Monuments' and start a love affair that gained Merckx a record seven M-SR victories.
M-SR March 19, 1966
288 Km
1. Eddy MERCKX (Bel) 6h40'40"
3. Herman Van Springel (Bel)
Starters: 190
Finishers: 123
Average Speed: 43.128 km/h
Return to the Timeline ToC
Return to the Race Snippets ToC