The Last One Standing
The 1964 Milan-San Remo Classic was a war of attrition. 1961 M-SR champion Raymond Poulidor instigated the decisive breakaway on the Capo Berta, just 40 km from the finish.
Originally 4 riders made the breakaway, but Poulidor's relentless pace shed the struggling Vincenzo Meco. Onto the climb of the Poggio Poulidor attacked again and dropped Flandria's Willy Bocklant. Only Tom Simpson (Peugeot-BP) could hold Poulidor's wheel.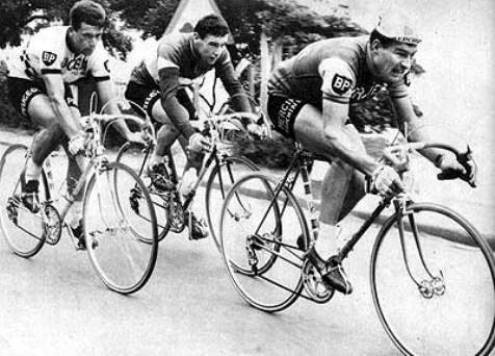 Over the Poggio the duo plunged into San Remo and the finish line 3 kilometers away. Down the Via Roma in San Remo Tom Simpson jumped around Poulidor to gain the 1964 Milan-San Remo.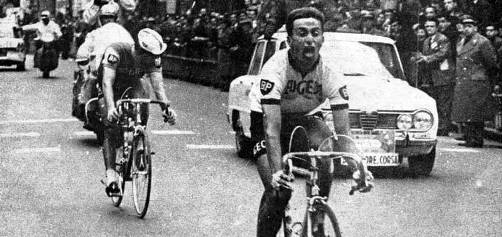 SPECIAL NOTE: For the third time in six years the average speed of the race set a new record. The 1964 average of 43.420 km/h beat Rene Privat's 1960 average of 42.640 km/h.
M-SR March 19, 1964
288 Km
1. Tom SIMPSON (GBr) 6h37'59"
2. Raymond Poulidor (Fra) +2"
3. Willy Bocklant (Bel) +1'01"
Starters: 232
Finishers: 138
Average Speed: 43.420 km/h (New Record)
Return to the Timeline ToC
Return to the Race Snippets ToC