Belgian Survives the 'Hell of the South'
The weather of the Italian spring can be miserable. The rider came to the start in Milan on a day more fit for the northern classics. Rain, wind and cold temperature hindered the rider all the way to San Remo.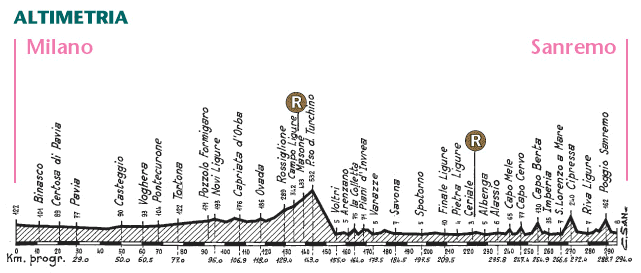 *Race profile courtesy of Internet site: www.econ-outlook.com.au/tom/cycling/palmares.html
The pace left the start at high speed with 11 riders going clear including former winners Rik Van Steenbergen and Loretto Petrucci. Across the plains of Lombardy the breakaway collected the lucrative cash premes and held a gap of over 4 minutes. A strong 7 rider counter-attack led Belgian Alfred De Bruyne brought back the leader before the famous climb of the Passo Turchino.
Italian Pierino Baffi won the prestigious climb and a substantial cash prize. The speed remained high as a 3 rider group escaped on the descent into Voltri. The chase was relentless and the breakaway was caught 60 km later in Finale Ligure.
The definitive attack of the day came on the climb of the Capo Berta with 32 km remaining. Alfred De Bruyne and young Italian Guido Boni broke away at the base of the climb and opened a gap that would not be closed. Over the top of the Capo Berta Boni could not hold De Bruyne's wheel. The Belgian survived the miserable weather and soloed into San Remo for the victory.
Courageously Fiorenzo Magni made a late, solo charge and closed to 46 second of De Bruyne but ran out of time. The Italian star had to settle for second place.

M-SR March 19, 1956
281 Km
1. Alfred DE BRUYNE (Bel) 6h57'10"
2. Fiorenzo Magni (Ita) +46"
3. Jozef Planckaert (Bel) +50"
Starters: 203
Finishers: 110
Average Speed: 40.415 km/h
Return to the Timeline ToC
Return to the Race Snippets ToC