Poblet Wins for Spain
The 1957 Milan-San Remo featured aggressive racing as the peloton left Milan at high speed. A solid breakaway group of 15 riders went over the summit of the Passo Turchino with a 9 minute lead. The chase from the peloton was long and hard as the race turned along the flat roads of the Ligurian coast.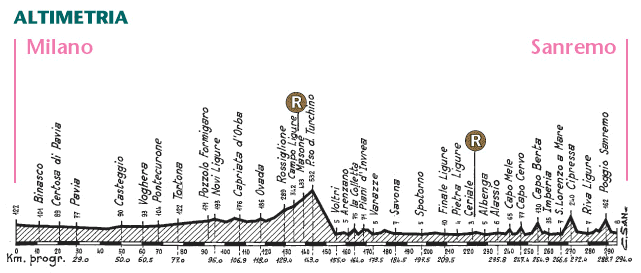 *Race profile courtesy of Internet site: www.econ-outlook.com.au/tom/cycling/palmares.html
The peloton close the gap to 2'15" through Allasio with approximately 50 kms to go. Frenchman Nicolas Barone attacked the breakaway and made a solo attempt with 50 km to go. Barone survived over the first two Capo climbs, but the tough Capo Berta was next.
An inspired Barone held onto his lead over the Capo Berta. Quickly an elite 5 rider chase group formed and began to close. Spaniard Miguel Poblet drove the group with defending champion Alfred De Bruyne holding his wheel. Shortly after Imperia an exhausted Barone was caught.
Poblet executed a perfect sprint on the Via Roma in San Remo to win the 1957 Milan-San Remo. Alfred De Bruyne (Bel) was second with British star Brian Robinson third.
SPECIAL NOTE: Miguel Poblet became the first Spanish rider to win M-SR and Robinson became the first British rider to finish on the podium.

SPECIAL NOTE: The race set a new record average speed at 40.754 km/h for M-SR.
M-SR March 19, 1957
282 Km
1. Miguel POBLET (Spa) 6h55'51"
2. Alfred De Bruyne (Bel)
Starters: 223
Finishers: 147
Average Speed: 40.754 km/h
Return to the Timeline ToC
Return to the Race Snippets ToC