Belgian Sprinter Conquers Late Capi
The typical spring weather for Milan-San Remo was rain at the start and sun at the finish. 1955 would be a typical M-SR year.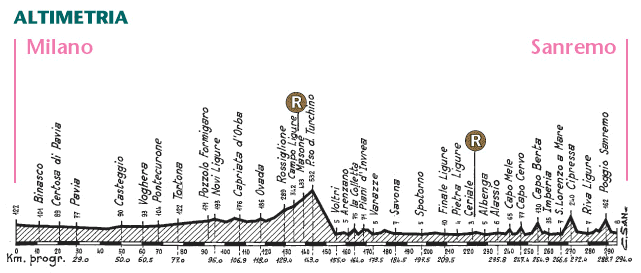 *Race profile courtesy of Internet site: www.econ-outlook.com.au/tom/cycling/palmares.html
Across the plains of Lombardy the sprinters collected the cash premes as the contenders waited for the Ligurian coast to start their race. On the climb of the Capo Mele, the first of the famous Capi, Bernard Gauthier (Fra) and Germain Derijcke (Bel) launched a well timed attack. Their lead held steady through the remaining climbs.
Descending the final climb young Italian Mauro Giannaschi and reigning World Champion Jean Bobet caught the leaders on the outskirts of San Remo. Down the Via Roma Belgian sprinter Germain Derijcke flew past his breakaway companions and won the 46th edition of Milan-San Remo.
M-SR March 19, 1955
282 Km
1. Germain DERIJCKE (Bel) 7h03'46"
2. Bernard Gauthier (Fra)
Starters: 167
Finishers: 104
Average Speed: 39.923 km/h
Return to the Timeline ToC
Return to the Race Snippets ToC