Van Steebergen's Powerful Sprint
The 1954 Milan-San Remo started with cool temperatures and light rain. By the time the race hit the Ligurian coast the roads had dried and the racing heated up.
On the climb of the Capo Berta just 32 km to the finish, Italian Riccardo Filippi attacked with Raoul Remy (Fra), and Stan Ockers (Bel). The chase group was led by reigning World Champion Fausto Coppi. The peloton now shattered saw the elites of the race aggressively pursuing the breakaway. Big Belgian sprinter Rik Van Steenbergen worked hard to hold the aggressive pace.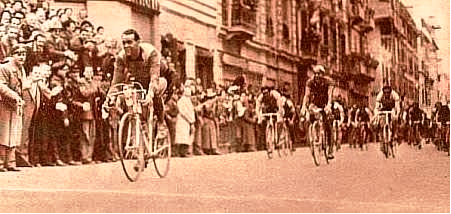 Plunging off the final climb the breakaway held a slim lead entering San Remo and the final 3 kms. Down the Via Roma the Coppi led chasers closed quickly and caught the breakaway. Belgian sprinter Rik Van Steenbergen wasted little time and sprinted away for the victory. Fausto Coppi finished fourth.
SPECIAL NOTE: M-SR was first shown on live television in 1954. The final 300 meters were aired live.

M-SR March 19, 1954
282 Km
1. Rik VAN STEENBERGEN (Bel) 7h10'03"
2. Francis Anastasi (Fra)
Starters: 219
Finishers: 95
Average Speed: 39.343 km/h
Return to the Timeline ToC
Return to the Race Snippets ToC