Two in a Row for Petrucci
The Bianchi-Pirelli teammate of Fausto Coppi and Raphael Geminiani, Loretto Petrucci, won the 44th edition of Milano-San Remo in 1953.
Swiss champion Hugo Koblet escaped on the plains of Lombardy in a group of 7 riders. The breakaway's lead reached 2'46" before the peloton began to chase. By the base of the Turchino climb the Koblet group was caught.
Aggressively the race began to explode as the beginning of the Capo climbs approached. Frenchman Roger Walkowiak lead a 13 rider breakaway. Over the Capo Mele and Capo Cervo riders begin to drop off. The breakaway was down to five over the summit of the Capo Berta. Belgians Germain Deryijcke, and Raymond Impanis drove the pace with Italians Giuseppe Minardi, Nino Defilippis and Loretto Petrucci. A huge effort by Valère Ollivier (Bel) gained the breakaway group as they passed through Arma di Taggia approximately 10 km from the finish.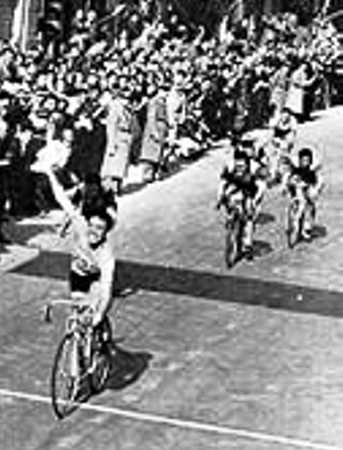 In the streets of San Remo Loretto Petrucci sprinted away from Giuseppe Minardi and Valère Ollivier to take the Milan-San Remo victory.
M-SR March 19, 1953
282 Km
1. Loretto PETRUCCI (Ita) 6h59'20"
2. Giuseppe Minardi (Ita)
Starters: 215
Finishers: 114
Average Speed: 40.349 km/h
Return to the Timeline ToC
Return to the Race Snippets ToC