Top 20 All Time Major Classics #5
Liege-Bastogne-Liege 1980: Hinault, Snow, and Pain
CR Timeline 1980 x Top 20 Classics Countdown
"La Doyenne" (the Old Lady), Liege-Bastogne-Liege is the oldest surviving classic (first run in 1892) and carries the history and prestige of the five great cycling monuments. Every year Liege-Bastogne-Liege is a transition from the cobbled climbs of Flanders and Paris-Roubaix to the longer hills of the Belgian Ardennes.
174 riders came to Liege on April 20, 1980 for the 66 th edition of La Doyenne. The riders arrived at the start line in a white-out snow storm. The media reported "it was the worst Ardennes weather in the history of L-B-L". More than half of the 174 starters had abandoned the race after only one hour of racing. It was merely survival for the remaining riders as the race passed through Bastogne and turned back towards Liege.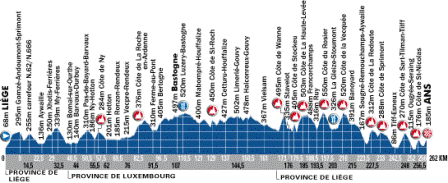 Image ©: www.letour.fr
Rudy Pevenage (Ger) and Ludo Peeters (Bel) broke clear of the remaining peloton and shattering group. The duo led over the famed Stockeu climb by 2 minutes 15 seconds. Always a front runner, Bernard Hinault (Fra) began to increase the pace on the Stockeu to catch the breakaway. He broke clear with Silvano Contini (Ita) and Henk Lubberding (Bel). After a 20 km chase the Hinault group caught the leaders on the climb of the Haute Levee. There were still 80 snow covered kilometers on the road to the finish in Liege and Hinault rode straight through the leaders. He was riding a lonely path to the finish.

Bernard Hinault driving the pace solo through the snow (from Archive)
The biting cold and pelting snow increased the pain of the difficult terrain. Hinault's exposed face was stinging from the snow as he steadily increased his advantage on the peloton. The frozen Frenchman dismissed thoughts of abandoning while in the lead. Driven by immense pride and a potentially a colossal moment in cycling history, Hinault ignored the pain and drove on towards Liege and the Boulevard de la Sauveniere.
His Renault-Gitane teammates, long since abandoned, welcomed a near frostbitten Hinault from the warm confines of a Hotel along the finish straight in Liege. Across the finish line Bernard Hinault claimed his second Liege-Bastogne-Liege victory, a devastating 9'24" ahead of second placed Hennie Kuiper (Ned).
True champions have an innate ability to suffer during a race. On April 20, 1980 Bernard Hinault suffered above and beyond normal limits to claim one of the greatest classics victories of ALL TIMES!
L-B-L April 20, 1980
244 Km
Liege-Bastogne-Liege
1. Bernard HINAULT (Fra) 7h01'42"
2. Hennie Kupier (Ned) +9'24"
Average Speed: 34.720 km/h
Return to the Timeline ToC
Return to the Race Snippets ToC