Joseph Bruyere Wins Again
1976 Liege-Bastogne-Liege champion Joseph Bruyere returned to La Doyenne without teammate Eddy Merckx, who had retired a month earlier. The Walloon resident headed a stellar start list.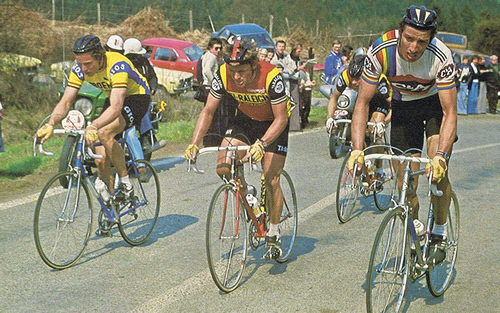 Joseph Bruyere (R) leads Hennie Kupier (C) and Dietrich Thurau (L)
A small breakaway went off with a significant distance to the finish. Bruyere rode prominently in the group and set a pace that could not be matched by the other members of the breakaway. After the Cote de la Redoute Bruyere had shed everyone and similar to 1976 rode into Liege alone. Joseph Bruyère (C&A) crossed the finish line for a 1 minute 35 second victory.
L-B-L April 23, 1978
241.7 Km
1. Joseph BRUYERE (Bel) 6h37'42"
2. Dietrich Thurau (Ger) +1'35"
3. Francesco Moser (Ita)
Starters: 156
Finishers: 51
Average Speed: 36.460 km/h
Return to the Timeline ToC
Return to the Race Snippets ToC