France's Next Great Superstar?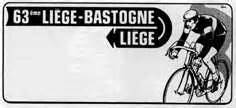 Heavy rain over night and cold Ardennes temperatures greeted the riders for the 63rd edition of the Liege-Bastogne-Liege. Small and unsuccessful breakaways featured the ride to halfway mark near Bastogne. As the weather worsened, the tough Ardennes climbs began.

Elite group: Bernard Hinault (L) Freddy Maertens (CL), Eddy Merckx (CR), and Roger de Vlaeminck (R)
The first serious attack came from Bernard Thevenet and Frans Veerbeeck. Their escape shattered the peloton. The already bad weather turned worse when rain, hail and wet snow blanketed the course. German Dieter Thurau from the dwindling lead pack launched what would be the final selection.
Veteran Andre Dierickx answered the attack with 21 year old Frenchman Bernard Hinault on his wheel. The three rider breakaway became two on the outskirts of Liege, when a tiring Thurau was dropped.
Onto the long narrow finishing straight on the Boulevard de la Sauveniere Dierickx confidently led out the sprint. To his surprise the young Frenchman could sprint and Hinault came past the Belgian in the closing meters.
Winner of Gent-Wevelgem five days earlier, Bernard Hinault's Liege-Bastogne-Liege victory gave all of France reason to celebrate and optimism for the future. Have the French found a new savior? YES!!!
L-B-L April 24, 1977
243.5 Km
1. Bernard HINAULT (Fra) 6h28'02"
2. Andre Dierickx (Bel)
3. Dietrich Thurau (Ger) +10"
Starters: 143
Finishers: 24
Average Speed: 37.660 km/h
Return to the Timeline ToC
Return to the Race Snippets ToC