Merckx Plays a Key Role in the Victory
Eddy Merckx, the record holder for most Liege-Bastogne-Liege victories, returned to in 1976 in search of his sixth. A month before Merckx won his seventh Milan-San Remo Classic (also a record number of M-SR victories).
Six riders broke away more than 100 kms from the finish, Merckx and his Molteni teammate Joseph Bruyere were prominently placed in the group. Headed into the climb of the Cote de la Redoute Bruyere rolled away from Herman Van Springel and crested the climb with a two minute lead on the chasing group. Merckx played a loyal teammate and worked to disrupt the chase.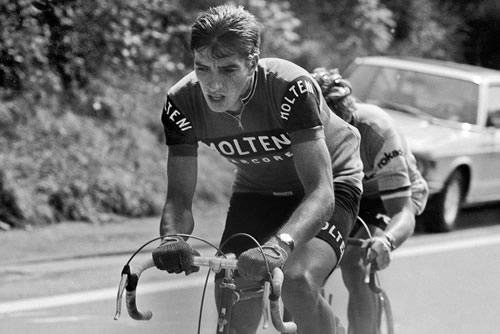 Molteni's Joseph Bruyere pushing a hard pace
Joseph Bruyere rode steadily away and came into Liege with a 5 minute lead. Bruyere, grew up in the Liege area, completed a very emotional L-B-L victory in 1976.
L-B-L April 18, 1976
246.7 Km
1. Joseph BRUYERE (Bel) 6h31'00"
2. Freddy Maertens (Bel) +4'40"
3. Frans Verbeeck (Bel)
Starters: 128
Finishers: 34
Average Speed: 37.860 km/h
Return to the Timeline ToC
Return to the Race Snippets ToC