Brutal Ardennes Weather Tests Merckx in 1971
Eddy "the Cannibal" Merckx broke away 92 km from the finish at Stade Velodrome de Rocourt in Liège. His brutal pace in horrible weather gave him a five+ minute advantage over a dwindling pack.
Falling victim to the weather he began to tire on the Mont Theux. Merckx was joined by 1970 L-B-L winner Georges Pintens for the flat run-in to the velodrome. Pintens immediately attacked but failed to shake a tired Merckx. Merckx managed to garner enough strength to outsprint Pintens to gain his second Liege-Bastogne-Liege victory.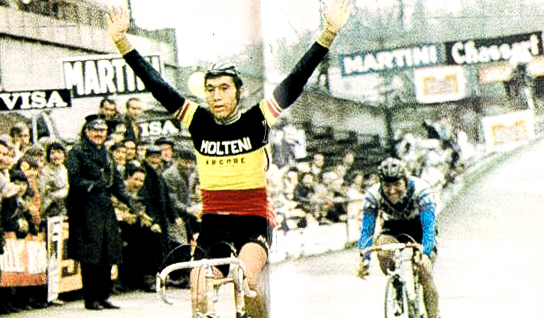 1970 Belgian Champion Eddy Merckx wins LBL 1971
SPECIAL NOTE: The race was run in horrible Ardennes weather that included bitterly cold temperatures and snow.
L-B-L April 25, 1971
251 Km
1 . Eddy MERCKX (Bel) 6h57'10"
2. Georges Pintens (Bel)
3. Frans Verbeeck (Bel) +4'51"
Starters: 122
Finishers: 27
Average Speed: 36.120 km/h
Return to the Timeline ToC
Return to the Race Snippets ToC