De Vlaeminck and a Majic Move in the Tunnel?
Eddy Merckx came to Liege-Bastogne-Liege in 1970 following a dominating victory in Paris-Roubaix. Roger De Vlaeminck was dropped and finish second to Merckx in P-R 5 days earlier. De Vlaeminck swore he would NOT be dropped in L-B-L.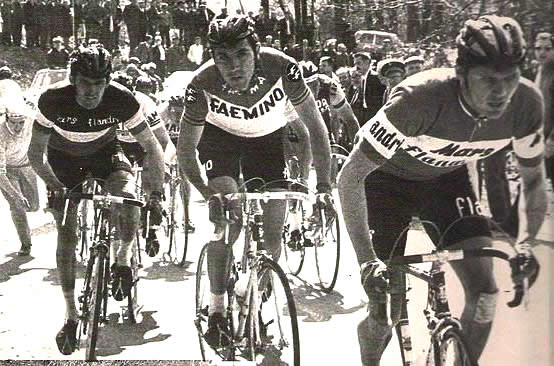 Eric de Vlaeminick (R) leads Merckx (C) and Roger de Vlaeminck (L) on the final climb
The final selection saw 6 riders break clear in the closing kms. The breakaway sped towards the Stade Velodrome de Rocourt in Liege. The entrance to the velodrome was a short, narrow tunnel leading to the banked track. Six riders entered the tunnel together and jockeyed for position as the sprint began open-up. It was unclear what happened in the short tunnel (*) but Roger De Vlaeminck emerged with a 12 second lead. He crossed the finish line first and gained the L-B-L victory.
SPECIAL NOTE: (*) Reports varied about the happening in the tunnel, Roger De Vlaeminck insisted his accelleration was so quick no one could answer the move. Others reported that Roger's brother Erik moved in front of Merckx before the entrance to the track, slowing the effort of the remaining riders.
L-B-L April 17, 1970
235 Km
1 . Roger DE VLAEMINCK (Bel) 7h02'03"
2. Frans Verbeeck (Bel) +12"
3. Eddy Merckx (Bel)
Starters: 138
Finishers: 36
Average Speed: 33.410 km/h
Return to the Timeline ToC
Return to the Race Snippets ToC