TV Live at Flanders
Television coverage of cycling was coming of age as millions of viewers watched the Ronde action live. Motorcycle cameras captured the action of a 13 rider breakaway and the drama of race favorite Frans Verbecken's multiple and untimely punctures.
The peloton rolled into the new finish line in Meerbeke/Ninove. Belgian sprinters Freddy Maertens and Eric Leman treated the fans to a battle to the line. Defending champion Eric Leman took a narrow win.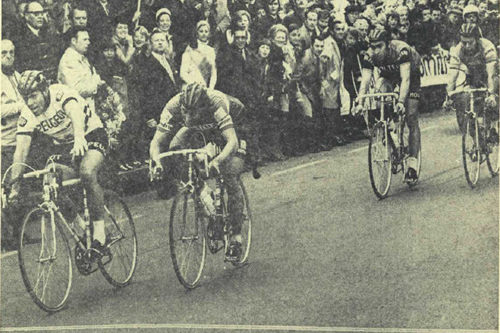 Leman became the 3rd rider to win Flanders 3 times.
Flanders April 1, 1973
260 Km, Gent to Meerbeke/Ninove
1. Eric LEMAN (Bel) 6h17'00"
2. Freddy Maertens (Bel)
3. Eddy Merckx (Bel)
Starters: 174
Finishers: 37
Average Speed: 41.379 km/h
Return to the Timeline ToC
Return to the Race Snippets ToC