Superior Sprinter Grabs a Narrow Win
Aggressive racing from the start of the 1972 Ronde van Vlaanderen feature a high average speed. Eddy Merckx drove the pace with 1970 Ronde champion Eric Leman in every move. The cold temperature and miserably wet weather began to take its toll as the kilometers clicked down.
A late attack by Merckx and Leman opened a solid gap. Italian Felice Gimondi towed the remainder of the peloton back to the duo. The final 7 rider selection formed with 10 kms to the finish.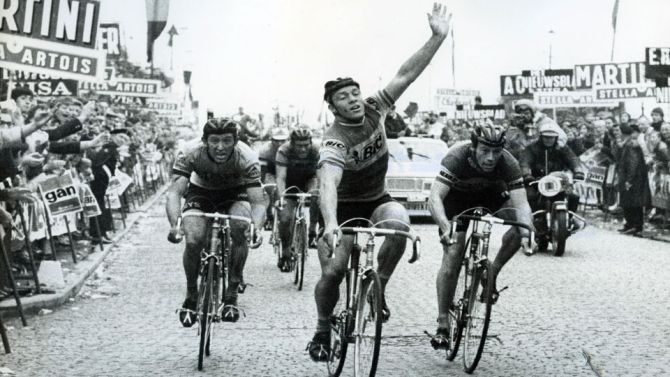 Leman (C) wins, Dierickx (R) 2nd, Verbeeck (L) 3rd
From the group superior sprinter Eric Leman grabbed a narrow win from Belgian Andre Dierickx. The instigator of the final move Eddy Merckx cruised to the finish in 7th place.
Flanders April 9, 1972
250 Km, Gent to Merelbeke
1. Eric LEMAN (Bel) 6h04'30"
2. Andre Dierickx (Bel)
3. Frans Verbeeck (Bel)
Starters: 171
Finishers: 80
Average Speed: 41.152 km/h
Return to the Timeline ToC
Return to the Race Snippets ToC