L'Arc en Ciel to the Frenchman
Agrigento, Italy (Catania Circuit) welcomed the 1994 UCI World Road Race Championships.
The race began to came together on the final lap, when Denmark's Rolf Sorensen attacked solo and rode up the finial climb with Luc Leblanc (Fra) and Massimo Ghirotto (Ita) in pursuit. 500 meters from the summit of the 13% climb Leblanc caught and quickly passed Sorensen. Ghirotto was not able to hold the flying Frenchman.
Aggressively the leaders chased Leblanc into the final 3 km. Italian Claudio Chiappucci drove the pace with Leblanc's teammate Richard Virenque on his wheel. Luc Leblanc rode solo across the finish line 9 second ahead of Chiappucci and Virenque.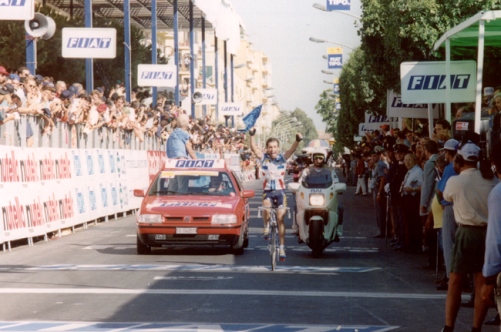 Leblanc became the first Frenchman to win L'Arc en Ciel (the Rainbow Jersey) in 14 years, when Bernard Hinault accomplished the 1980 victory in Sallanches, France.
WCRR

August 28, 1994
252.8 Km [

Agrigento (Catania Circuit), Italy

]
1. Luc LEBLANC (Fra) 6h33'54"
2. Claudio Chiappucci (Ita) 9"
3. Richard Virenque (Fra)
Starters: 170
Finishers: 57
Average Speed: 38.350 km/h
Return to the Timeline ToC
Return to the Race Snippets ToC