Italian On Top of the World
The 1992 edition of the UCI World Championship Road Race was held in Benidorm, Spain on a tough 261.6 km race course..
The final breakaway included 17 riders. The French team controlled the pace of the race for young star Laurent Jalabert.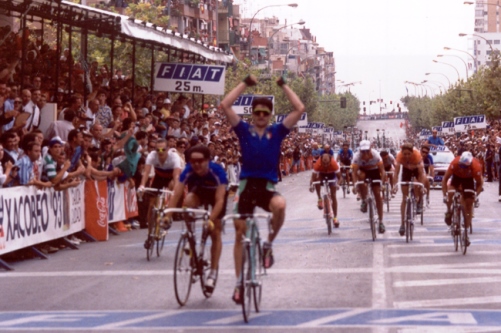 Italian Gianni Bugno came off the French team leadout and beat Laurent Jalabert for the Victory.
WCRR

September 6, 1992
261.6 Km [ Benidorm, Spain ]
1. Gianni BUGNO (Ita) 6h34'28"
2. Laurent Jalabert (Fra)
3. Dimitri Konyshev (Rus)
Starters: 192
Finishers: 89
Average Speed: 39.790 km/h
Return to the Timeline ToC
Return to the Race Snippets ToC