Welcome to Japan!
SPECIAL NOTE: Utsonomina, Japan enthusiastically welcomed 145 of the best professional cyclist in the World. The innovative Japanese constructed a brand-new 14.5 km race course, which featured a man made steep (12% max) and twisting climb. Extreme heat and humidity made the circuit even tougher.
A nervous peloton raced steadily, unwilling to allow any breakaways to escape in the early laps. The first serious move came on the fourth lap as the climb began. A breakaway group of 15 escaped and built a 6'44" lead through lap 8 (of a 18 lap total).
Control of the race was taken by the USA national team. When the Italian team joined the chase the time gap began to fall. On lap 14 the breakaway started to falter. The chase was being driven by the elites of the peloton and the breakaway was doomed.
Norwegian Dag Otto Lauritzen attacked the peloton on the 16th climb. After Swiss rider Rolf Jaermann joined Lauritzen the pair bridged to the now 5 rider break. With fire in his belly Lauritzen attacked immediately and opened a 32 second gap on the Italian led chase.
Belgian Dirk de Wolf, who rode in the original breakaway, caught Lauritzen on the 18th and final climb. In a clumsy gesture to chasing Belgian teammates Rudy Dhaenens and Dirk De Wolf accidently rode into Lauritzen causing the Norwegian's chain to slip off. De Wolf quickly remounted and caught Dhaenens on the descent; Lauritzen was caught by the peloton.
The chase was now being led by a "who's who" of the race. The Belgian duo held a slim 8 second lead and the experts all knew they would be caught quickly.
An inspired De Wolf and Dhaenens held their speed through the final kms. and held off the chasers. Rudy Dhaenens out sprinted a very tired and cramping teammate Dirk de Wolf to gain the victory. Italian Gianni Bugno won the field sprint for third.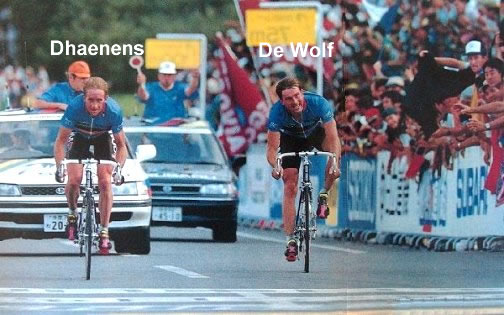 WCRR September 2, 1990
261 Km [ Utsonomina, Japan ]
1. Rudy DHAENENS (Bel) 6h51'59"
2. Dirk de Wolf (Bel)
3. Gianni Bugno (Ita) +8"
Starters: 145
Finishers: 57
Average Speed: 38.010 km/h
Return to the Timeline ToC
Return to the Race Snippets ToC