LeMond Comes of Age
No American has ever won the World Professional Championship Road Race until September 4, 1983. The demanding race course in Alterheim, Switzerland provided the venue for Greg LeMond to come of age. LeMond beat the world's best cyclists in impressive fashion.
The real racing began with three laps of the 14.994 km race course to go. After an early breakaway gained over 3 minutes Scotsman Robert Millar attacked from a chasing group. The move was answered quickly by Greg LeMond. LeMond's speed was so high only Italian Moreno Argentin and Spaniard Faustino Ruperez could follow.
Over the summit of the climb the trio was away. Flying down the descent they caught the lone survivor of the early breakaway, Serge Demierre (Sui). The peloton knew the danger of the breakaway and chased hard. Starting the last two laps the breakaway held a slim 29 second lead.
LeMond and Ruperez set a tempo on the next to last climb that dropped a tiring Demierre. Midway on the climb Argentin slipped back from the relentless pressure. LeMond and Ruperez built 1'20 lead with one lap to go.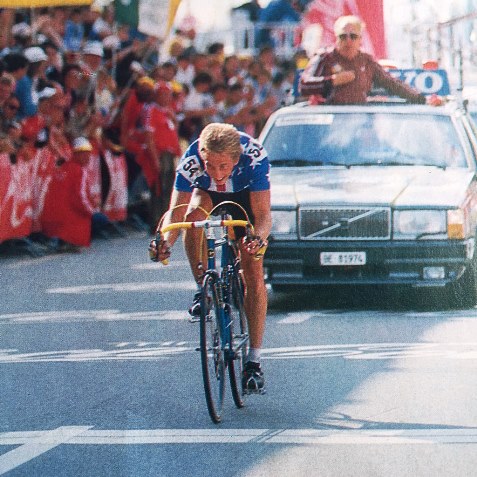 When the final climb started LeMond attacked and rode away from the Spaniard. Over the summit he was alone and on a journey into history. To the roar of 300,000 fans Greg LeMond crossed the finish line to become the first American to win the World Professional Road Championship "Rainbow Jersey".
WCRR September 4, 1983
269.9 Km [ Alterheim, Switzerland ]
1. Greg LEMOND (USA) 7h01'21"
2. Adri Van der Poel (Ned) +1'11"
3. Stephen Roche (Ire)
Starters: 117
Finishers: 46
Average Speed: 38.449 km/h
Return to the Timeline ToC
Return to the Race Snippets ToC