"Gloriously Tough Goodwood"
The 1982 World Championship Road Race was held in Goodwood, Great Britain. The 275.4 km race course, 18 laps around a 15.3 km "Gloriously Tough Goodwood" circuit.
Marino Lejarreta (Spa) attacked through the finish area with 1 lap to go. As a danger man the peloton chase the Spaniard and reconnected halfway through the final lap.
The aggressive last lap entered the final 3 kms together. A tired but determined Lejarreta attacked again. American Jonathan Boyer bridged the gap quickly and rode straight past the leader. Boyer went under the 1 km flag with a solid gap. USA teammate Greg LeMond took up the chase and pulled the peloton up to Boyer. Taking the opportunity Giuseppe Saronni (Ita) came off LeMond's wheel and flew immediately past Boyer with 125 meters to go.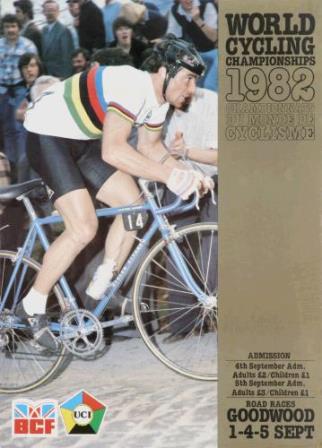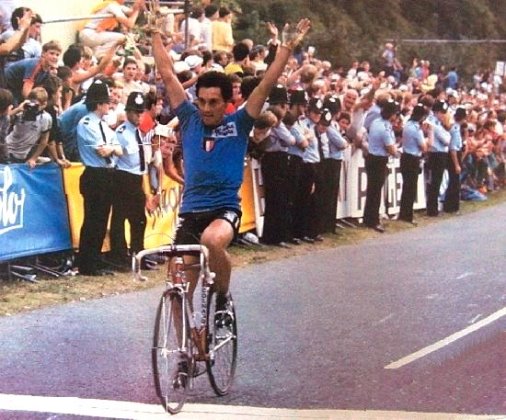 Giuseppe Saronni cruised across the finish line for the prestigious 1982 World Championship victory. Greg LeMond held on for second place.
SPECIAL NOTE: An American feud was started between Boyer and LeMond. Boyer claims LeMond did not want him to win and become the first American World Champion. The bad feelings last for years.
WCRR September 5, 1982
275.1 Km [ Goodwood, Great Britain ]
1. Giuseppe SARONNI (Ita) 6h42'22"
2. Greg LeMond (USA) +5"
3. Sean Kelly (Ire) +10"
Starters: 136
Finishers: 55
Average Speed: 41.010 km/h
Return to the Timeline ToC
Return to the Race Snippets ToC