Dutchman Closes the Year in Style
The 1979 World Championship Road Race was held in Valkenburg, Netherlands. The 17 laps of the 16.16 km circuit included the difficult climb of the Cote de Cauberg.
Dutchman Jan Raas, who won the prestigious Tour of Flanders in the spring, attacked early to test the will of the other contenders. A brief hesitation by the peloton because of the difficulty of the course saw a 7 rider breakaway form.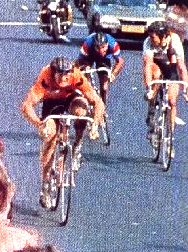 The group would not be caught. From the breakaway Jan Raas beat German Dietrich Thurau to gain the World Championship in 1979.
WCRR August 26, 1979
274.8 Km [ Valkenburg, Netherlands ]
1. Jan RAAS (Ned) 7h03'09"
2. Dietrich Thurau (Ger)
3. Jean-Rene Bernaudeau (Fra)
Starters: 114
Finishers: 44
Average Speed: 38.965 km/h
Return to the Timeline ToC
Return to the Race Snippets ToC