By Barry Boyce, CyclingRevealed Historian
Francesco Moser
The 1977 World Road Race Championship was held in San Cristobal, Venezuela. The race presented 255 km over 15 laps of a 17 km circuit.
After finishing second at the 1976 WCRR, Francesco Moser (Ita) left no doubt who was strongest in 1977. Moser broke away with German Dietrich Thurau and rode into San Cristobal together.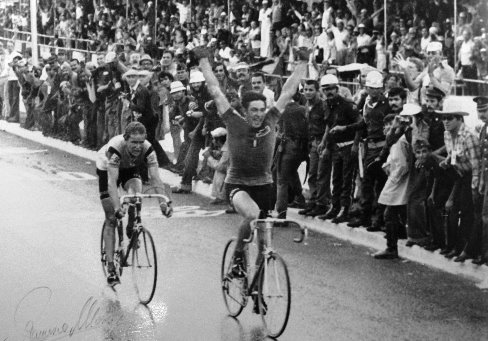 Francesco Moser would not be denied and easily won the sprint for the 1977 World Championship. Italian teammate Franco Bitossi (Ita) took the field sprint for third place.

WCRR September 4, 1977
255.0 Km [ San Cristobal, Venezuela ]
1. Francesco MOSER (Ita) 6h36'24"
2. Dietrich Thurau (Ger)
3. Franco Bitossi (Ita) +1'19"
Starters: 89
Finishers: 33
Average Speed: 38.597 km/h
Return to the Timeline ToC
Return to the Race Snippets ToC