The Renaix Affair
The World Champion in 1960 and 1961 Belgian Rik Van Looy entered the 1963 championships in Renaix (Ronse), Belgium with great confidence. Van Looy offered each Belgian team member $1,500 if Van Looy won the race. The Belgian team worked gallantly as the final lead group of 28 approached the finish.
The finish seemed perfect for the Belgians until an impatient Van Looy jumped past his lead-out man too early. Suddenly on the opposite side of the road teammate Benoni Beyeht made a charge to the line. Van Looy bolted across the road forcing Beyeht to put out his hand. Was it a push, was it a pull, or was it just to avoid crashing?
Beyeht crossed the finish line first just in front of an angry Van Looy to win the 1963 World Championship.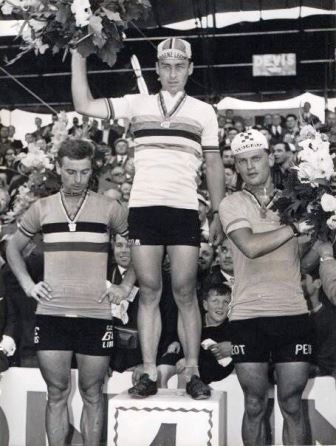 Contrasting expressions of the two Belgians on the podium
SPECIAL NOTE: The resulting feud lasted for years. However, as time passed a mellow Van Looy admitted the hand was only to avoid a crash.

WCRR August 1, 1963
278.8 Km [ Renaix (Ronse), Belgium ]
1. Benoni BEHEYT (Bel) 7hr25'26"
2. Rik van Looy (Bel)
3. Jo de Haan (Ned)
Starters: 70
Finishers: 36
Average Speed: 37.544 km/h
Return to the Timeline ToC
Return to the Race Snippets ToC