By Barry Boyce, CyclingRevealed Historian
Belgian Dominance
Copenhagen (village of Ballerup), Denmark hosted the 1956 World Championship Road Race. The race was contested by the World's best cyclists over 22 laps on a very challenging 12.96 km circuit for a total of 285.1 km.

The Belgian National team would not be denied. Fred De Bruyne, who finished in 5th place, led out the sprint for teammate Rik Van Steenbergen. The big Belgian sprinter easily won the sprint and gained his second World Championship (1948 WCRR was the first).
Belgians controlled the top 5 places. In dominating fashion the Belgian finished with 4 in the top 5. Defending World Champion Stan Ockers (Bel) finished in 4th Place.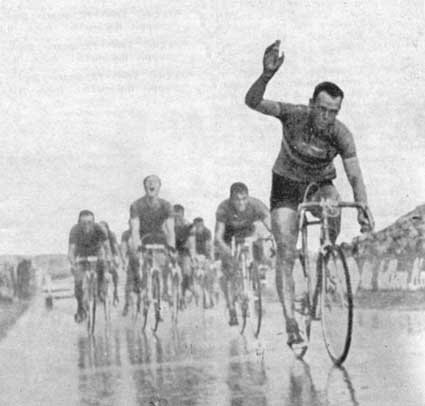 Rik Van Steenbergen!!!

WCRR August 26, 1956
285.12 Km [ Copenhagen-Ballerup, Denmark ]
1. Rik Van STEENBERGEN (Bel) 7h28'15"
2. Rik Van Looy (Bel)
3. Gerrit Schulte (Ned)
Starters: 71
Finishers: 27
Average Speed: 38.335 km/h
Return to the Timeline ToC
Return to the Race Snippets ToC