Strong Belgian's Shining Moment
The 1955 World Champion Road Race was contested under a very hot August sun in Frascati, Italy. The race course was 293 kms in length with 14 laps of 20.93 km.
The race saw strong Belgian Stan Ockers bridge a 10 minute gap to an elite breakaway containing Gaston Nencini (Ita), Raphael Geminiani (Fra), Miguel Poblet (Spa) and Jacques Anquetil (Fra).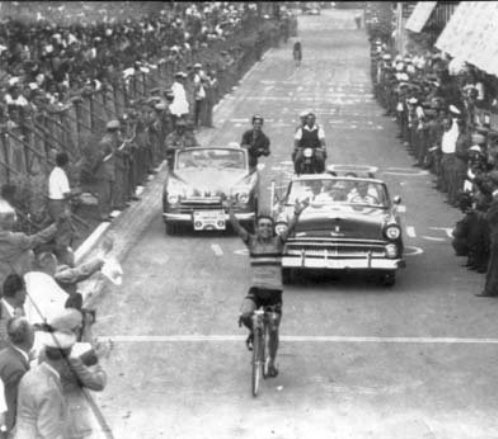 Wasting little time he attacked the group and rode solo to the victory 1 minute and 3 seconds ahead of Jean-Pierre Schmitz for the World Championship victory..

WCRR August 28, 1955
293.13 Km [ Frascati, Italy ]
1. Stan Ockers (Bel) 8h43'33"
2. Jean-Pierre Schmitz (Lux) +1'03"
3. Germain Derijcke ( Bel) +1'15"
Starters: 65
Finishers: 20
Average Speed: 33.593 km/h
Return to the Timeline ToC
Return to the Race Snippets ToC