Campionissimo! Finally…
The 1953 World Championship Road Race was held in Lugano, Switzerland. The 270 km race course, 18 laps around a hilly 15 km circuit, around the Lugano presented a formidable challenge to the 70 starters.

1953 Giro d'Italia champion Fausto Coppi had wins in every major race, but lacked a World Championship. The Campionissimo came to the race with huge expectations.
SPECIAL NOTE: Italian director sportif Alfredo Binda was pressured by Fausto Coppi to NOT select rival Gino Bartali for the team. Binda relented and left Bartali off the Italian team.
The 33 year old Italian attacked on the climb of the Crespera with 90 km to go. Only Belgian Germain Derijcke could follow Coppi's wheel. Several laps later Derijcke began to tire and began to struggle. When Coppi attacked on the Crespera again he was dropped with 22 km to the finish.

Leaving no doubt Coppi opened a large gap and rolled across the finish line 6'16" ahead of the second placed Derijcke.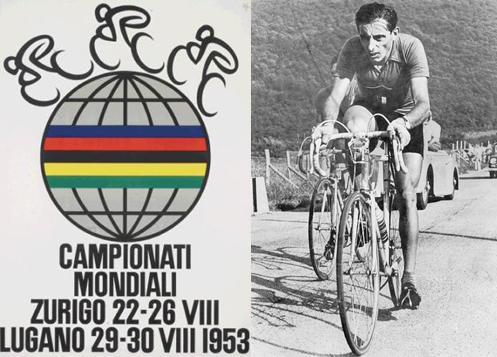 WCRR August 30, 1953
270 Km [ Lugano , Switzerland ]
1. Fausto COPPI (Ita) 7h30'59"
2. Germain Derijcke (Bel) +6'16"
3. Stan Ockers (Bel) +7'29"
Starters: 70
Finishers: 27
Average Speed: 35.920 km/h
Return to the Timeline ToC
Return to the Race Snippets ToC