The Swiss Hammer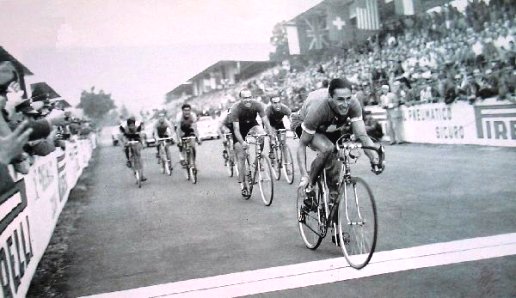 The 1951 World Championship Road Race was held in Varese, Italy. The 295.2 km race course in the Lake Como area of Italy presented tough parcours.
Swiss champion Ferdi Kubler attacked 60 km into the race and broke away. Kubler drove the pace of an elite seven rider breakaway.
Into the final kilometer Antonio Bevilacqua and Fiorenzo Magni lead out the sprint. Ferdi Kubler launched a brilliant sprint and came around the 2 Italian for the victory.
SPECIAL NOTE: Crossing the finish line Ferdi Kubler made a strange gesture, when he immediately reached down to adjust his right toe strap (see the picture). Too tight???

WCRR September 2, 1951
295.2 Km [ Varese , Italy ]
1. Ferdi KUBLER (Sui) 8h28'28"
2. Fiorenzo Magni (Ita)
3. Antonio Bevilacqua (Ita)
Starters: 46
Finishers: 24
Average Speed: 34.834 km/h
Return to the Timeline ToC
Return to the Race Snippets ToC