Duclos-Lassalle's Timely Early Attack
The 90th Paris–Roubaix was held on April 12, 1992. The field of starters was down slightly at 151 riders in Compiegne.
SPECIAL NOTE: Attitudes of riders began to change in the early 90's. The race had always attracted the top riders of the time, but Grand Tour riders, fearing P-R's cobbled parcours, started avoiding the race. P-R became a race for 'specialists', tough flatland rouliers.
The winning breakaway rode away from the peloton at the 90 km to go mark. The elite group, including Gilbert Duclos-Lassalle, Thomas Wegmuller Rik Van Slycke, and Jean-Paul van Poppel, opened more than 2 minute lead.
Riding through the cobbled section at Ennevelin, a long 40 kilometers to the finish, Duclos-Lassalle dropped Rik Van Slycke, and Jean-Paul van Poppel and made a solo attempt for victory. The crowd at the velodrome, watching Duclos-Lassalle's effort on the "jumbotron" (large screen TV), roared their approval, but was it too early?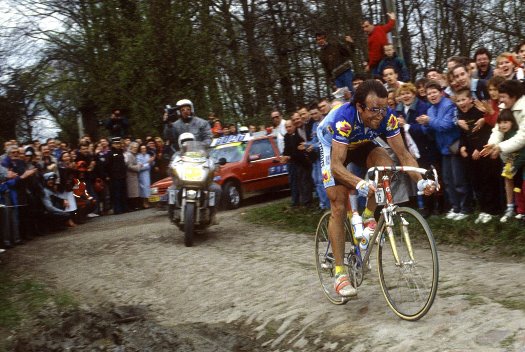 Late in the race Duclos-Lassalle began to tire and Panasonic's Olaf Ludwig (Ger) closed on the solo leader. With the time gap down to 21 seconds Duclos-Lassalle's Director Sportif Roger Legeay exhorted the Frenchman and he regained his rhythm.

Notice the road bike Rock Shocks
Gilbert Duclos-Lassalle rode into the velodrome with a 30 second lead and cruised across the finish line for his first P-R victory in 17 tries.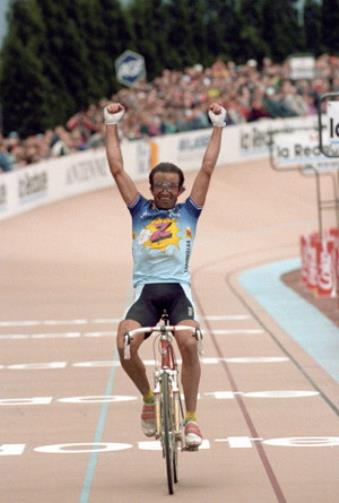 P-R April 12, 1992
267.5 Km, Compiegne to Roubaix (Velodrome)
1. Gilbert DUCLOS-LASSALLE (Fra) 6h26'56"
2. Olaf Ludwig (Ger) +34"
3. Johan Capiot (Bel) +1'22"
Starters: 151
Finishers: 84
Average Speed: 41.480 km/h
Return to the Timeline ToC
Return to the Race Snippets ToC