Madiot's Second P-R Victory
The 89th Paris–Roubaix was held on April 14, 1991. Marc Madiot, the 1985 P-R winner, came to the start line with great fitness. Critics of the Frenchman said he was "over-the-hill". Madiot was not on the pre-race list of favorites.
SPECIAL NOTE: Several Team Z teammates including Greg LeMond, and Gilbert Duclos-Lassalle, experimented with new road bike "Rock Shocks" to absorb some of the vibrations in the cobbled section.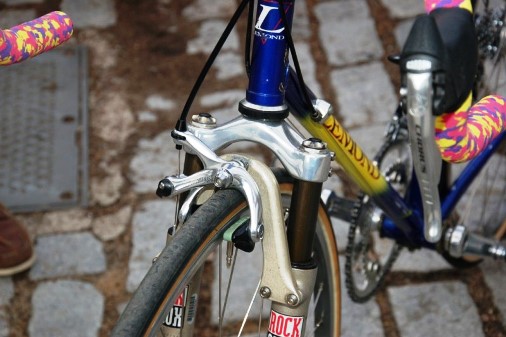 From the start in Compiegne aggressive racing formed serious breakaway groups. When the peloton rode through the cobbles of the Arenberg Forest the real racing started. For the next 25 km the stars of the race began trading attacks.
The move of the day came from Lotto's Hendrik Redant. On the cobbles of Templeuve, 35 km from the finish, steadily rode away from an elite chase group. Redant's brilliant solo ride met with misfortune when a puncture let Madiot, Franco Ballerini, Wilfried Peeters, John Talen, and Peter De Clercq ride past, while the Belgian waited for assistance.
The new 5 rider breakaway hit the 16 km to go marker with a solid lead. Similar to his 1985 victory Marc Madiot launched his new winning attack through the brutal "5 Star" cobbled section the Carrefour de l'Arbre.
Marc Madiot entered the velodrome to the roar of the huge crowd, more than a minute ahead of the chasers. The NOT "over-the-hill" Frenchamn answered his critics and won his second Paris-Roubaix.
P-R April 14, 1991
266.5 Km, Compiegne to Roubaix (Velodrome)
1. Marc MADIOT (Fra) 7h08'19"
2. Jean-Claude Colotti (Fra) +1'07"
3. Carlo Bomans (Bel)
Starters: 196
Finishers: 96
Average Speed: 37.332 km/h
Return to the Timeline ToC
Return to the Race Snippets ToC