Powerful Dutch Team Dominates
The 1969 Paris-Roubaix left the start in Chantilly at a rapid pace. The selections started to happen early in the race as the peloton split into two groups. A lead group of 5 riders including Eddy Merckx and archrival Walter Godefroot went clear through the Forest at Arenberg.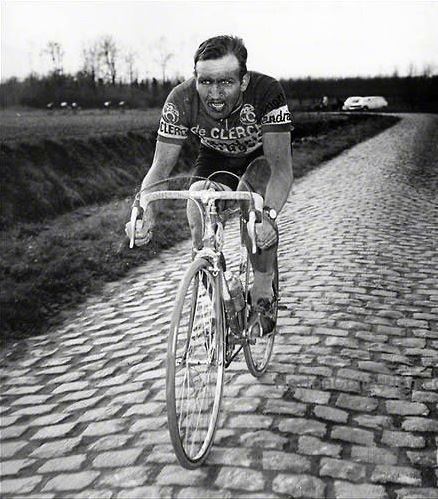 After an untimely puncture Godefroot had to work hard to regain the breakaway. He attacked immediately upon catching the group and escaped alone with the help of his Flandria teammates. He steadily increased his lead and entered the velodrome 2'49" ahead. The prestigious victory was his. Eddy Merckx won the field sprint for second place.
P-R April 13, 1969
264 Km, Chantilly to Roubaix (Velodrome)
1. Walter GODEFROOT (Bel) 6h46'47"
2. Eddy Merckx (Bel) +2'49"
3. Willy Vekemans (Bel)
Starters: 154
Finishers: 35
Average Speed: 38.939 km/h
Return to the Timeline ToC
Return to the Race Snippets ToC