Gijssels Wins a Flanders/Paris-Roubaix Double
Tour of Flanders winner Romain Gijssels started Paris-Roubaix at the height of his career. But it was an aggressive French team that controlled the race. A breakaway through the early cobbled sections gave strong Frenchman Marcel Bidot the likely chance for win. Four Belgians used relentless pressure and brought Bidot back to the group.
Belgian sprinter Georges Ronsse opened the sprint up early on the Avenue des Villas in Roubaix. From the back of the group Gijssels powered a well timed sprint and a huge gear to claim a very close sprint. The finish was so close race officials huddled for a half hour to properly determine the finishing order. After the long delay the finish judge declared Romain Gijssels the victor.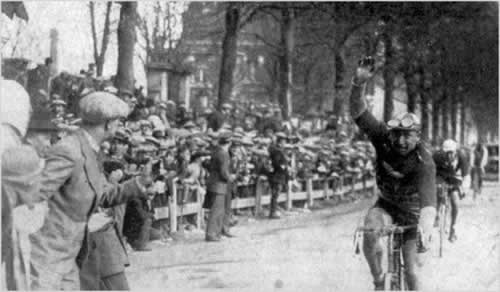 P-R March 27, 1932
255 Km, Porte Maillot Paris to Roubaix (Ave des Villas)
1. Romain GIJSSELS (Bel) 6h49'58"
2. Georges Ronsse (Bel)
3. Herbert Sieronski (Ger)
Starters: 129
Finishers: 69
Average Speed: 37.320 km/h
Return to the Timeline ToC
Return to the Race Snippets ToC