Ronsse was the Strongest but Meunier Wins
A cold north wind greeted the riders at the start in Le Vesinet. Strong Belgian Georges Ronsse drove a hard pace through the tough cobbled section at Henin-Lietard. Relentlessly three riders escaped the peloton and gained significant time when clouds of dust slowed the chase. An untimely puncture slowed Ronsse near Roubaix , but the powerful Belgian easily reconnected with the breakaway. Ronsse led the group into the new finish area at Amedee Prouvot Stadium.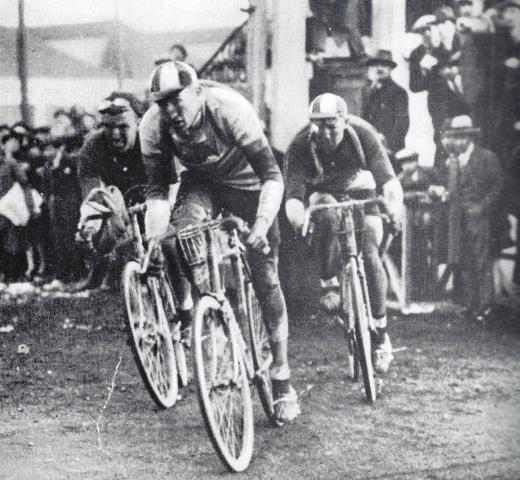 The cinder track in the stadium was treacherous and on the final bend Ronsse crashed heavily.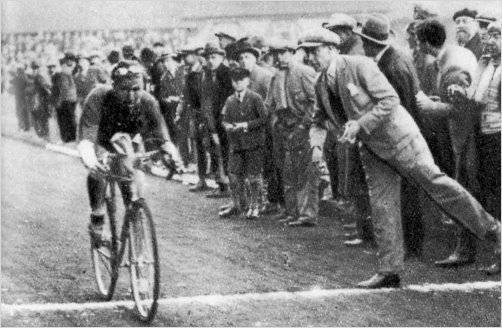 Charles Meunier avoided the fallen riders and crossed the finish line to claim the victory. Clearly the strongest rider Ronsse carried his broken bike to claim second place.
SPECIAL NOTE: Following the race the promoters faced harsh criticism for finishing P-R on a cinder track. The Avenue des Villas returned as the finish line in 1930.
P-R March 31, 1929
260 Km, Porte Maillot Paris to Wattrelos (Stade Amerdee Prouvost)
1. Charles MEUNIER (Bel) 8h54'50"
2. Georges Ronsse (Bel)
3. Aime Deolet (Bel)
Starters: ???
Finishers: 25
Average Speed: 29.170 km/h
Return to the Timeline ToC
Return to the Race Snippets ToC