Great Italian classics rider Moreno Argentin had never won Milan-San Remo. He came to the 83rd Edition of this Italian Monument in 1992 with high hopes and great fitness.
Argentin launched a massive attack over the top of the Poggio and opened a 15 second gap. Behind him 36 year old Sean Kelly led the stung-out peloton in pursuit. The Irishman once said, "If you have a 100 meter lead at the top of the Poggio, you'll win." Kelly's statement was put to the test in 1992. After watching Argentin ride away, Kelly started the descent of his life.
SPECIAL NOTE: The descent of the Poggio is not easy. On the narrow switch-back turns a rider must brake at the last moment and sprint quickly back up to speed. In order to win a rider must take huge risks on this heart-stopping descent.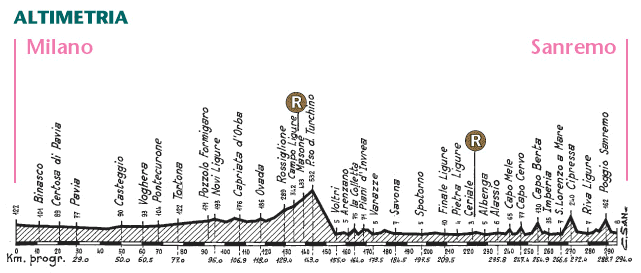 *Race profile courtesy of Internet site: www.econ-outlook.com.au/tom/cycling/palmares.html
After more than 7 hours of racing Kelly descended like a mad man. Flying into and out of every hair-pin turn Kelly slowly closed the gap on Argentin. Inside the last 3 km to go at the bottom of the Poggio Kelly made contact with a very surprised Argentin. The two under the 1 km to go sign and rode onto the Via Roma with the peloton closing very quickly. Aggressively the Italian led out the sprint. Kelly, a solid sprinter, easily came by Argentin for the victory.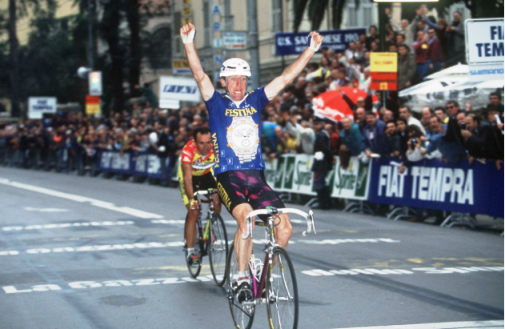 Sean Kelly's Milan-San Remo victory was his second, but it was his dare-devil descent that made this 1992 victory a cycling legend.
M-SR March 21, 1992
294 Km
1. Sean KELLY (Ire) 7h31'42"
3. Johan Museeuw (Bel) +3"
Starters: 219
Finishers:
206 * Record Number of Finishers
Average Speed: 42.342 km/h
Return to the Timeline ToC
Return to the Race Snippets ToC