Cecchi's Early Breakaway but Bartali Wins
135 wet riders departed Milan in heavy rain. The treacherous condition caked the riders and bike with mud. Only 39 would reach the finish in San Remo. Defending champion Fausto Coppi arrive at the summit of the Passo Turchino weighed down with mud and abandoned shortly after the climb.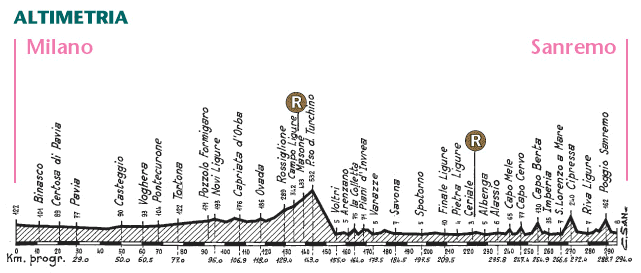 *Race profile courtesy of Internet site: www.econ-outlook.com.au/tom/cycling/palmares.html
A group of six that escaped before the Turchino. Edmondo Toccacelli, Emilio Croci-Torti, Ezio Cecchi, Enzo Bellini, Giorgio Scrivanti and Giulio Bresci drove the pace on the dirt and snow covered roads. At the summit of the climb Cecchi was alone 9 minutes ahead of Gino Bartali, Lucien Teisseire and René Vietto.
After a relentless chase great Italian champion Gino Bartali caught the solo Cecchi on the Capo Berta. The tirerless Bartali attacked hard and dropped Cecchi 18 km from San Remo.
Gino Bartali gain a brutally hard Milan-San Remo victory in 1947.


M-SR March 19, 1947
285 Km
1. Gino BARTALI (Ita) 8h33'00"
2. Ezio Cecchi (Ita) +3'57"
3. Sergio Maggini (Ita) +9'00"
Starters: 135
Finishers: 39
Average Speed: 33.300 km/h
Return to the Timeline ToC
Return to the Race Snippets ToC